This page is currently in English. Please translate into Romanian.
Articles are constantly being updated.
Please copy contents from the source page before beginning translations.
Source provided for guidelines only.
Please feel free to rephrase the article to suit the needs of the language.
In-Game Description
Edit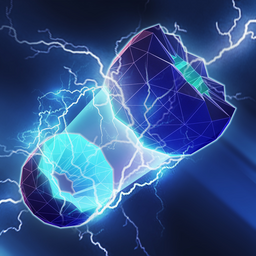 "Freeze all neighbor nodes for a short time. Disabling security nodes buys you extra time to remove them."
The Shocker is a Brute Force Offensive Program which stuns all connected, uncaptured nodes for a period of time equal to the "Freeze Time" statistic. This can give a player time to safely install programs such as Protector or attack Security Nodes without retaliation. The Shocker will remove itself immediately after it has stunned the connected nodes, freeing up the slot for an additional program.
On this video you can see the basics of how the Shocker program can be used to take down a network.
Statistics
Edit
Notes: While the Shocker is technically allowed to upgrade at the Evolver levels displayed, the Capacity of B-coins that can be held at those levels may not be sufficient to purchase the upgrade.
More Info here: Max amount of B-coins at Core Level.
Install
Time
Disk
Space
Compilation
Time
0.5 seconds
6
8 minutes
Level
Freeze Time
Duration
Compilation
Price
Upgrade
Cost
Research
Time
Required
Evolver Level
1
3 seconds
B25
B2,048
24 Hours
4
2
3.5 seconds
B40
B4,096
30 Hours
4
3
4 seconds
B55
B8,000
36 Hours
5
4
4.5 seconds
B70
B16,000
42 Hours
5
5 seconds
B85
B32,000
48 Hours
6
5.5 seconds
B100
B48,000
54 Hours
6
7
6 seconds
B120
B60,000
60 Hours
7
8
6.5 seconds
B140
B80,000
66 Hours
9
7 seconds
B160
B100,000
72 Hours
10
7.5 seconds
B180
B120,000
80 Hours
11
8 seconds
B200
B140,000
88 Hours
12
8.5 seconds
B220
B160,000
96 Hours
13
9 seconds
B250
B180,000
104 Hours
14
9.5 seconds
15
10 seconds
16
10.5 seconds
17
11 seconds
18
11.5 seconds
19
12 seconds
20
12.5 seconds
21
13 seconds
B560
Balance Updates
Edit
On 20th December 2016, Shocker stun times were reduced by 1-4 seconds, depending on level.
Archives
Edit
Hackers Wikia - Programe
Pagina Inițială
Programe
Noduri
Cum să joci
Ofensiv

 Berbec   Tun cu Raze   Blaster   Kraken 
 Maniac   Shocker   Shuriken   Viermi 

Defensiv
Invizibil
Ad blocker interference detected!
Wikia is a free-to-use site that makes money from advertising. We have a modified experience for viewers using ad blockers

Wikia is not accessible if you've made further modifications. Remove the custom ad blocker rule(s) and the page will load as expected.