This page is currently in English. Please translate into German.
Articles are constantly being updated.
Please copy contents from the source page before beginning translations.
Source provided for guidelines only.
Please feel free to rephrase the article to suit the needs of the language.
In-Game Beschreibung
Edit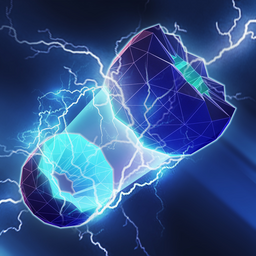 "Lähme alle benachbarten Nodes für kurze Zeit ein, um dir Zeit zu verschaffen, feindliche Knotenpunkte zu übernehmen."
Zusammenfassung
Edit
Der Schocker ist ein Brute Force Programm, dass alle angrenzenden, feidlichen Nodes lähmt. Die gewonnene Zeit kann gut zum beseitigen der gegnerischen Sicherheitsnodes genutzt werden oder einen Beschützer zu installieren. Nach Gebrauch deinstalliert sich der Schocker automatisch selbst. In diesem Video video kann man sehr gut erkennen, wie man den Schocker effektiv einsetzen kann.
Statistiken
Edit
Installations
Zeit
Festplatten
Speicherplatz
Kompilations
Zeit
0.5 Sekunden
6
8 Minuten
Level
Lähmungs
Dauer
Kompilations
Preis
Upgrade
Kosten
Erforschungs
Zeit
Benötigtes
Evolver Level
1
4 Sekunden
B25
B2,048
15 Stunden
4
2
4.5 Sekunden
B40
B4,096
30 Stunden
3
5 Sekunden
B55
B8,000
36 Stunden
4
5.5 Sekunden
B70
B16,000
42 Stunden
5
6 Sekunden
B85
B32,000
48 Stunden
6
6.5 Sekunden
B100
B48,000
54 Stunden
7
7 Sekunden
B120
B60,000
60 Stunden
8
7.5 Sekunden
B140
B80,000
66 Stunden
9
8 Sekunden
B160
B100,000
72 Stunden
10
8.5 Sekunden
B180
B120,000
80 Stunden
11
9 Sekunden
B200
B140,000
88 Stunden
12
13
14
15
16
17
18
19
20
21
Hackers Wikia - Programme-List
Startseite
Programme
Nodes
Gameplay
Offensive Programme

 Rammbock   Strahlenkanone   Blaster   Kraken 
 Wahnsinniger   Schocker   Shuriken   Würmer 

Defensive Programme
Stealth Programme
Ad blocker interference detected!
Wikia is a free-to-use site that makes money from advertising. We have a modified experience for viewers using ad blockers

Wikia is not accessible if you've made further modifications. Remove the custom ad blocker rule(s) and the page will load as expected.