This page is currently in English. Please translate into Polish.
Articles are constantly being updated.
Please copy contents from the source page before beginning translations.
Source provided for guidelines only.
Please feel free to rephrase the article to suit the needs of the language.
In-Game Description
Edit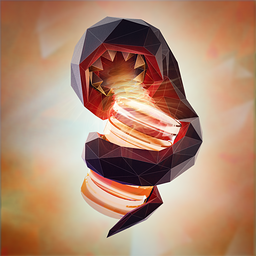 "This greedy malware speeds up the downloading of money, B-coins and Core databases. May be used even in stealth mode on nodes you have access to."
The Data Leech is a Hybrid Program that can be used in both Stealth and Brute Force Hacks to increase the speed at which resources are taken from Business Nodes. Data Leech can also be installed on a Core to increase the speed at which the Core's information is downloaded.
If the player is discovered during a Stealth hack while Data Leech programs are installed, they will be removed from the nodes. Any resources taken are kept, and the Core download will continue from the same point once the Core is captured. If the player successfully downloads the Core and chooses to commence a Brute Force attack, they will still need to capture the Core to fulfil the control win condition. During both types of hacks, installing more Data Leeches on a captured node will further shorten the download time. (See comments for an example.)
Statistics
Edit
| | | |
| --- | --- | --- |
| Install Time | Disk Space | Compilation Time |
| 1 second | 3 | 30 seconds |
Level
Visibility
Download
Boost
Compilation
Price
Upgrade
Cost
Research
Time
Required
Evolver Level
1
28 / second
50%
B5
B512
2 Hours
2
2
26 / second
55%
B10
B2,048
4 Hours
3
24 / second
60%
B20
B4,096
8 Hours
4
22 / second
65%
B30
B8,000
12 Hours
5
20 / second
70%
B40
B16,000
24 Hours
6
18 / second
75%
B50
B32,000
30 Hours
7
16 / second
80%
B60
B48,000
36 Hours
8
9
10
11
12
13
14
15
16
17
18
19
20
21
A Level 1 Core takes around 30 seconds to download. Using a Data Leech on the Core when the time remaining is between 20 and 30 seconds will result in a full download.
Hackers Wikia - Programy
Strona Domowa
Programy
Węzły
Rozgrywka
Ofensywne

 Taran   Działo Laserowe   Blaster   Kraken 
 Maniac   Shocker   Shuriken   Robaki 

Obronne
Niewidzialne
Ad blocker interference detected!
Wikia is a free-to-use site that makes money from advertising. We have a modified experience for viewers using ad blockers

Wikia is not accessible if you've made further modifications. Remove the custom ad blocker rule(s) and the page will load as expected.