This page is currently in English. Please translate into Portuguese.
Articles are constantly being updated.
Please copy contents from the source page before beginning translations.
Source provided for guidelines only.
Please feel free to rephrase the article to suit the needs of the language.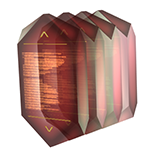 "All the programs you will need are compiled here in the Compiler.
Upgrade it to unlock more compiling threads and compile faster."
---
| | | | |
| --- | --- | --- | --- |
| | | | |
| Level 1 | Level 2 | Level 3 | Level 4 |
The Compiler is a Hacking Node that compiles developed programs. Programs that have finished compiling will be transferred automatically to the Program Library Node. A player may still compile programs while the Compiler is being upgraded.
Statistics
Edit
Notes: While the Compiler is technically allowed to upgrade at earlier levels than displayed, the Capacity of B-coins that can be held at those levels is not sufficient to purchase the upgrade. "Required Core Level" displays the highest value of both "Core Level" and "Core Level required to purchase the appropriate B-coin Mixer(s)."
| | |
| --- | --- |
| Node Connections | Program Slots |
| 3 | 3 |
Core Level
1 - 12
Max # of
Compilers
1
Level
Firewall
Compiling
Threads
Upgrade
Cost
Completion
Time
Required
Core Level
Appearance
1
150
1
B8
1 minute
1
2
300
2
B8,000
24 Hours
5
3
600
3
B50,000
48 Hours
7
4
1200
4
B100,000
8
Hackers Wikia - Nodos
Início
Nodos
Programa
Jogabilidade
Nodos de Negócios

Mina de B-Coin  Misturador de B-Coin  Conexão de Rede 
Núcleo  Base de Dados  Farm de Servidores 

Nodos de Segurança

ICE Preto  Portão de Código  Guardião 
Observador  Sentinela  Torre 

Nodes de Hacking

Compilador  Desenvolvedor  Bibliotéca de Programas 
Ad blocker interference detected!
Wikia is a free-to-use site that makes money from advertising. We have a modified experience for viewers using ad blockers

Wikia is not accessible if you've made further modifications. Remove the custom ad blocker rule(s) and the page will load as expected.